DIY market research: The how-to-guide
DIY market research doesn't mean market research is being done carelessly or without best practices. Instead, DIY market research gives us another option to get the insights we need from our customers to make our business successful.
"At the end of the day, DIY market research is about getting a quick win," said Brian Monschein, Voxpopme's vice president of research, on "Reel Talk: The Customer Insights Show." "Getting a quick win with cross-functional teams and leadership. And this is a great way to do it."
But how do we do that? That's what we'll dive into in this article. We discuss:
What is DIY market research?
DIY market research means that the person is doing many steps of the process themselves. For example, in one of my first research projects years ago, I created drafts of the questions and then somebody else coded them into a survey.
Today, in a DIY market research project I would do the entire process. Come up with the strategy, and the questions and create the survey.
Examples of DIY market research projects:
How has DIY market research evolved?
Years ago, DIY market research was a scary phrase, said Brian.
"You just automatically assumed that this will take a ton of my time," he said. "But it's so different now."
He likens do-it-yourself market research to the evolution of DIY at your house. Years ago, when Brian first worked on his house, it took a while, there were more trips than necessary, and in general, it was a bit of a trial-and-error process.
Today, you can go to YouTube or google what you are trying to do. Even if you have never run a project, somebody else has shared their experience publicly online doing something similar.
"YouTube allows you to find basically any DIY project out there, and it's likely been done," Brian said. "When you think of DIY within research, it's the same thing. There are better tools out there now. There are faster tools. More intuitive tools."
In other words, it comes down to:
Why are DIY market research techniques worth exploring?
Do-it-yourself can be a tool on your tool belt. You, the market researcher, use that tool when it's the best and right one for the job. But, DIY can also help companies structure market research teams and what they expect from them. That includes:
The expectation for speed in research results
Lower budgets
Smaller teams
"That's where DIY is a huge opportunity," Brian said. "It can allow you to adapt to the needs of the business, but in a way where it doesn't have to be scary, and you can do it for much less budget."
Read next: You deserve it! Staying relevant as a market research professional
What teams are best suited for DIY?
Do-it-yourself market research really can be implemented by any team. But, Brian said, the ones most likely to get started are those who like to roll up their sleeves and maybe even get a little scrappy. They are also often curious and analytical thinkers.
"Teams that like to build the story," he said. "Take that journey and find that narrative, in my mind, are good use cases for DIY products."
There's also the advantage of knowing the data better, Brian said. So when he's creating the questions, setting the respondent pool, and reviewing the themes, he has a leg up on knowing the data. Which ultimately he'll share with others in the company.
Teams that need quick results also might consider DIY. For example, when I use the DIY market research platform at Voxpopme for my consumer studies, I typically get 100 responses in less than 8 hours. Sometimes even quicker. The other day, a 5G consumer sentiment survey was completed with 100 respondents throughout the United States in under two hours.

"Once you realize there are platforms out there that can do this work for you, it can make your dollar go much farther," Brian said.
Insight teams can also set up DIY tools to let other business areas get insights quicker without starting a formal project.
"Because the technology is so fast and agile and reasonably priced and DIY, anybody who's not a researcher can use it from a functional perspective," said Jenn Vogel, host of "Reel Talk" and vice president of marketing at Voxpopme.
Other departments
While market research and consumer insights are major teams to use DIY market research tools, there are other departments as well:
Human resources can use technology to get feedback from employees
"It can be for internal R&D, too," Brian said. "Most importantly, it's about learning as we go."
The importance of human involvement
Brian said – no matter the technology – you'll want somebody on the team who owns the technology, is an expert in its use, and knows what projects it should be used for.
"They become the expert and can then teach the rest of the team," Brian said. "I think everyone should know how to use it but have one person, the owner. That has always proven successful when working with different DIY partners."
It's also good to remember that using technology isn't completely hands-off.
"The technology often is great, but it doesn't do it," said Jude Olinger, CEO at The Olinger Group, when he talked about how his company integrated DIY MR tech and augmented reality. "Even when it's a DIY thing, someone still has to do it. It just doesn't happen on its own."
What parts of DIY market research are perfect for automation?
Indeed, researchers should consider to who a survey needs to be sent. Once that's set, the distribution and collection of responses should easily be automated. From there, automatic analysis is helpful. For example, when I run consumer studies, I first look at the automatically-created themes in the Voxpopme theme explorer. Here's an example from a survey on hard seltzers.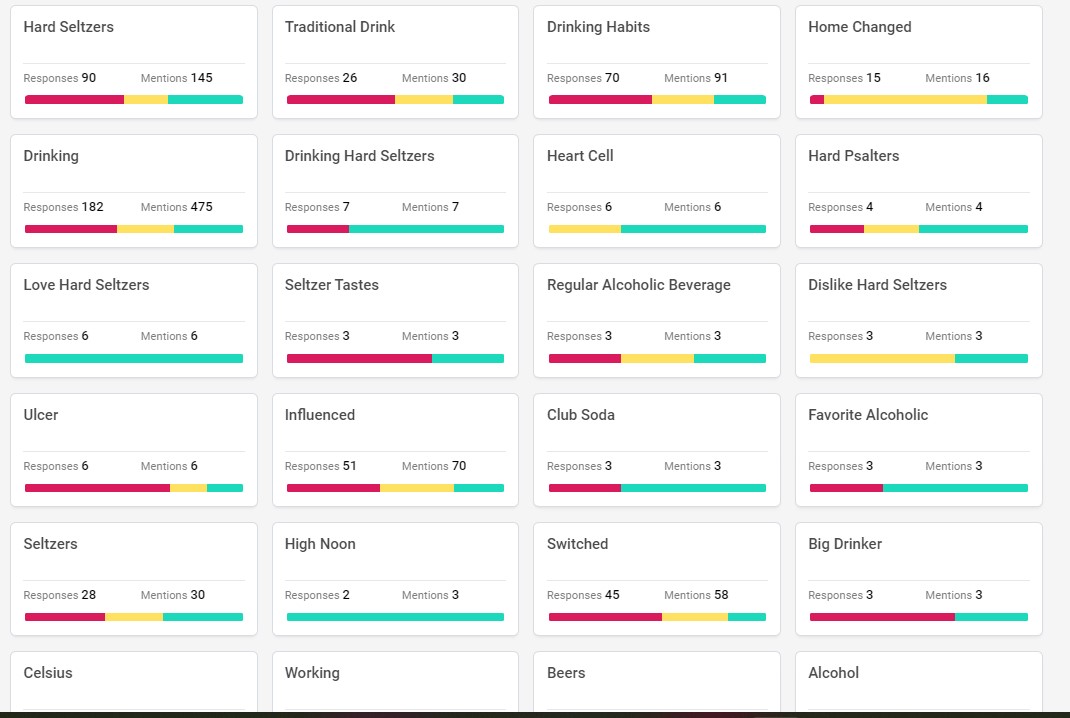 That doesn't mean that I will highlight all of these themes in my report, reel, or presentation, but it gives me a starting point.
"The results, whatever gets presented, I want to have more hand in that," Brian said. "The automation in the background to get to that point, do that for me."
What barriers do MR pros face for DIY?
One barrier is not having that one person own the project. Another barrier is limited bandwidth.
"When you are supporting many internal teams, all the way up to executive leadership, you can get stretched thin really quickly," Brian said. So take the time to get started, and DIY tools can make it more efficient.
When to use DIY market research projects
At a high level, two DIY market research types are commonly used.
Standalone DIY market research
Perhaps, the one thought of the most is a standalone project. For example, when I did a consumer study on drone deliveries, The entire project was run on its own in a market research online community (MROC), and I was able to run the whole project front to back in the MROC platform.
Integrated DIY market research
DIY market research can also be integrated into other projects – including when a full-service agency was hired for the project, Brian said.
"This was a six-figure project, and we got all the quant data done," Brian said. "But, I wanted to take it to the next level, so we used a video survey platform to bring these segments to life."
Brian said that seeing people on video made it easier to relate to them.

"There are cases where it could be a barrier at first, but if you open your mind a bit where there could be some use cases, you might be surprised," Brian said. "Even on bigger projects, it's a great way to add value and help bring it to life."
Read next: Augmented reality in a DIY market research project
Not all or nothing
Also, consider that it's not an all-or-nothing engagement. For example, researchers or marketers who have never done DIY research can transition into a DIY project when it makes sense.
"At first, there were questions like 'is this the death of full service?'" said Brianna Boyer, director of enablement at AYTM (Ask Your Target Market), about her first conversations about DIY with customers, adding different ways of research go hand-in-hand. And somebody still has to do the strategy and process behind the scenes, even when it's a DIY project.
"Time is a commodity we are all short these days, so asking somebody 'hey, just do it yourself,' can be tough," she said. "Finding the right solution for them… and what their first solution is might not be their second solution. The first solution might be 'let us do it for you,' and then look at how comfortable they are with it."
Read next:  7 steps to conduct research successfully
Having a blueprint to follow can also be helpful the second time around, she said. And sometimes, it's DIY at times, but not all the time.

How to select the right DIY market research technology
Many of our tips on evaluating an MR tech stack also apply here.
"One of the things I always evaluate is the ease of use," Brian said. "Anyone researcher on a team probably has 20 things on their list. For 20 different people. On any given day. And then tag on meetings they have to attend. They don't have time for cumbersome platforms. So ease of use is essential in my mind."
There are many resources out there to review:
Read reviews of platforms
See what people are saying about them on blogs
Where does the company rank in the industry?
Talk to other researchers and see what they are using
"More than likely, somebody in your LinkedIn network has used one of these platforms," Brian said. "You can learn more about it from somebody who has used it."
Also, consider how any new technology integrates or compliments your existing MR tech stack, said Jenn.
Read next: How to increase technology adoption of your MR tech stack
DIY market research technology and projects should help us:
improve insights efficiency
respond effectively to internal business questions
deliver reliable answers under pressure
deliver more with less
not sacrifice quality
Like this article? Read more like it on our Market Research Blog.