Consumer study: Do people prefer renting electric or gas cars?
Rental-car company Hertz is adding 100,000 Teslas to give people the option of renting electric cars. About 1.3 million electric cars are currently owned in the United States already so it's not a surprise that rental car companies are also looking at the option. But do consumers that rent cars care and would it impact their decision making on whom to rent cars from?
In our latest study, we asked 100 consumers (age 21 and older) in the United States how they feel about renting electric cars versus gas cars.

The methodology
The entire study of 100 respondents was conducted through Voxpopme's Influence market research online community (MROC) of on-demand consumers.
We combined quantitative and qualitative questions in the study and the results were neatly packaged for me in one dashboard.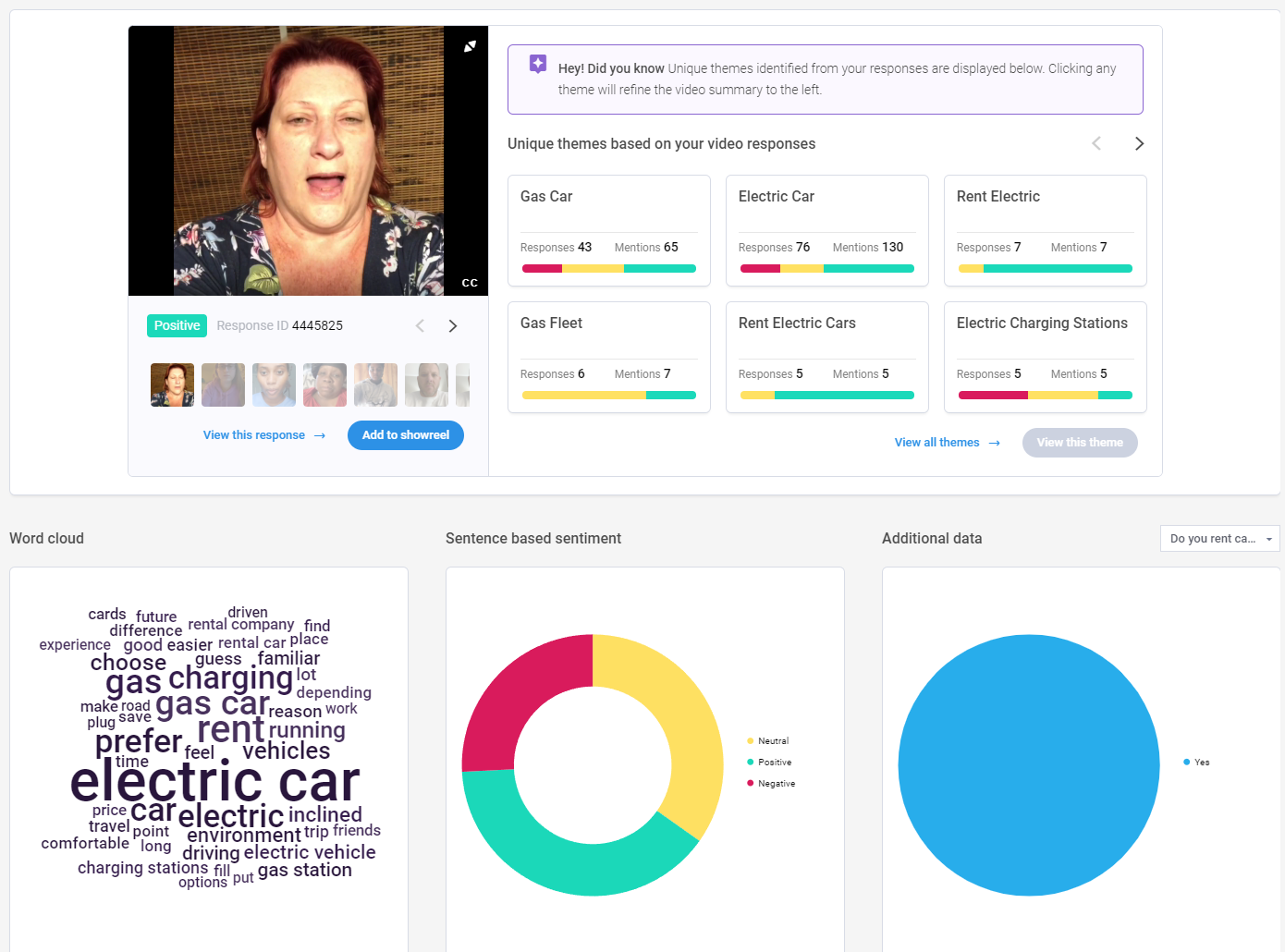 On the quantitative side, we asked:
This question was also used as a screener with only yes answers moving forward to the next question.
How often do you rent cars?

Weekly
Monthly
Quarterly
Yearly

What do you prefer when renting cars – electric or gas cars?
On the qualitative side, we asked:
Would you prefer to rent an electric or gas car and why?
Read next: Not sure what to ask? Check out Voxpopme's tried and tested open-ended questions for video research.
The results
Here's a quick highlight reel of responses, which we created directly in the platform:
The quant results
It was a pretty evenly split of quarterly, monthly or yearly rentals with consumers in our study and when they rent cars.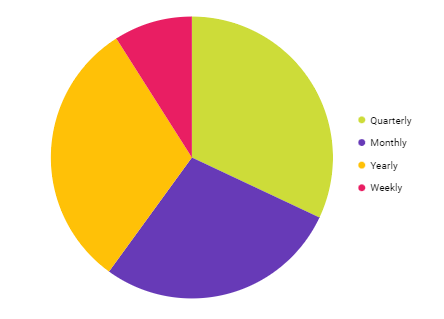 It wasn't that even when it came to choosing electric cars or gas cars. Ove 70 percent said they prefer to rent gas cars over renting electric cars.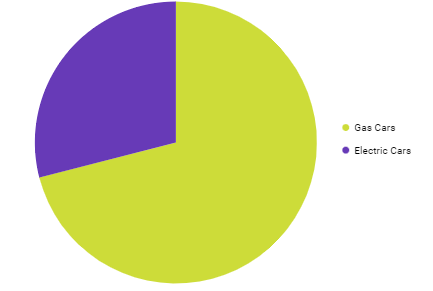 The qual results
For the qual questions, respondents recorded a quick video message – selfie style, directly from their phones. Some were even sitting in their cars while participating in the study.
In all, the automatic sentiment analysis showed that 39 percent of all statements were on the positive side, with 26 percent being negative and 35 percent were neutral.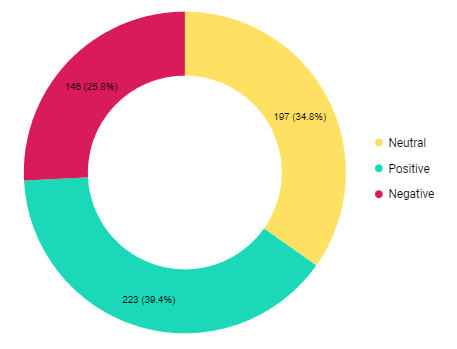 Unlike the quant questions, this sentiment analysis is pulled from what respondents actually said in their video responses.
The automatic theme explorer and Word Cloud gave me an idea what some of the most mentioned topics were.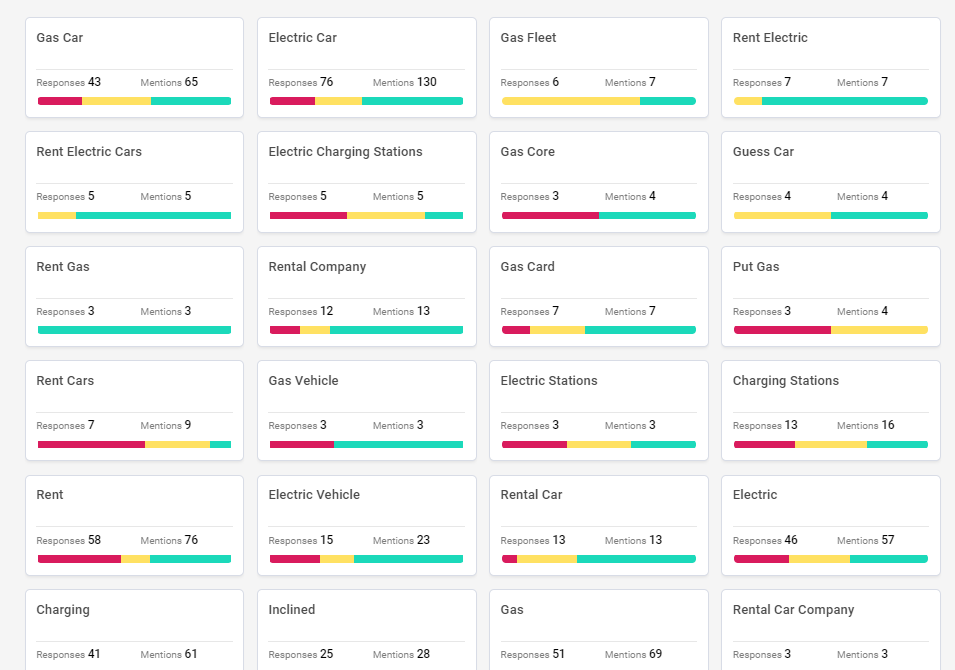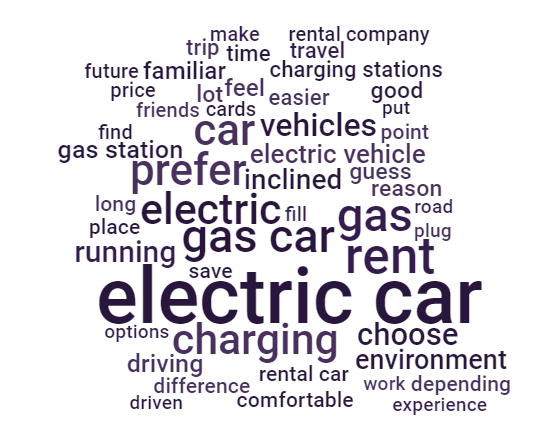 The analysis
I like to review the theme explorer first to get an idea what trends I'm seeing. The Word Cloud is my next step. Then I like to skim through the automatic transcripts and each response. Let's see what respondents said.
No charge for some
An electric car is a non-starter for some. The biggest theme we've heard centered around the uncertainty of knowing enough about them.
How do they work?
Where do I charge them?
Are they safe?
How long does it take to charge one? Longer than getting gas?
And so on…
"I definitely choose gas over electric at this point, but if I do more research, it could go the other way," said James, 46, of Beaverton.
Tehani, 23, of Centennial, said she doesn't have a preference for either one, but then quickly added that "I've never rented an electric car, so I'm not really sure what the main difference is. I don't have experience in charging the vehicle and stuff. So I'd probably would prefer a gas car just for that specific reason."
Many mentioned that they are worried they couldn't find a charging station when one is needed while traveling.
"When I travel there's more gas stations than electric charging stations," said Missi, 25, of Washington, D.C. "I would like to one day run more electric cars if there's more charging stations because electric cars are better for the environment."
But, it wasn't always a strong no toward electric cars and also depends on the situation.
Barbara, 69, of West Caldwell, said it would depend on how far she plans on traveling.
"I prefer to have an electric car if I don't have to travel long distances," she said. "If I'm going on a trip and it's just around town an electric car just seems more reasonable."
Can't wait to unplug the car and go
Some participants are ready to use electric cars 0r at least try them.
"If I were renting a car, I would probably be inclined to go with an electric car, partly because I have not had the opportunity to drive an electric car, yet," said Gail, 60, of Madisonville. "I would like to see how they are, how how well they drive. And just just to have the experience, I would probably go with an electric car if one was available."
The respondents that mentioned preferring to rent an electric car said the benefits are in:
not having to pay for gas
reducing carbon footprint
understanding how they work and giving you a chance to evaluate them
them being efficient

---
One of my key takeaways from this study was that some consumers need to get educated more about electric vehicles:
How to use them?
Where to charge them?
And so on…
That could make a good follow-up and evolution of this study. Find a way to educate them about electric vehicles than see if the understanding and comfort level has improved.
Read next: How you can use video surveys for your next project!