[Consumer Study] What are the biggest tech trends of 2022?
It certainly can be a challenge to keep up with what the biggest tech trends will be. Is it virtual reality? The Metaverse? Electric cars? The connected home? Technology in healthcare? Or something else?
To find out, we asked people in the United States to share their thoughts in this study.

The methodology in our tech trends study
The entire study of 100 respondents was conducted through Voxpopme's Influence market research online community (MROC) of on-demand community members.
In the platform, we combined quantitative and qualitative questions in the study and the results were neatly packaged for me in one dashboard.


On the quantitative side, we asked:
Are you interested in the latest technology trends?
This question was also used as a screener with only yes answers moving forward to the next question.
Which tech do you think will be the most influential in 2022?

The Metaverse
Smart home
Virtual reality
Electric cars
Connected health
Other
On the qualitative side, we asked:
What is the biggest tech trend for this year?
Read next: Not sure what to ask? Check out Voxpopme's tried and tested open-ended questions for video research.
The results
Here's a quick highlight reel of responses:
The quant results
In the study, about a quarter each said virtual reality and electric cars will be the most influential tech trends. Fifteen percent said the Metaverse and 14 percent voted for the smart home.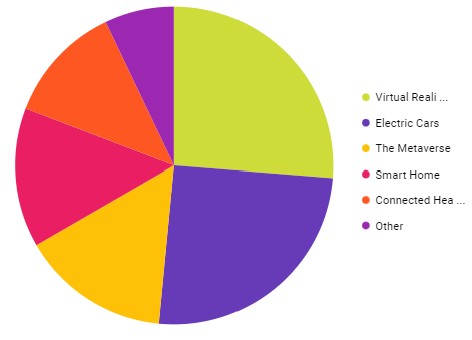 The qual results
For the qual questions, respondents recorded a quick video message – selfie-style, directly from their phones.
In all, the automatic sentiment analysis showed that 51 percent of all statements were on the positive side, with 20 percent being negative and 29 percent were neutral.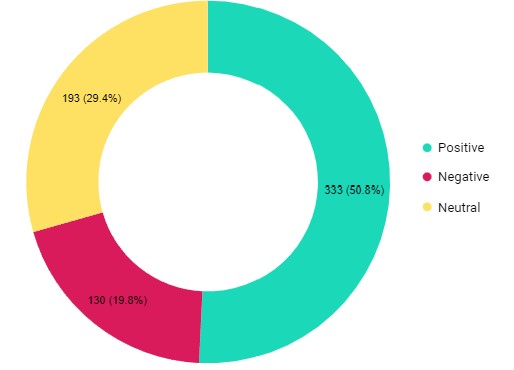 Unlike the quant questions, this sentiment analysis is pulled from what respondents actually said in their video responses.
The automatic theme explorer and Word Cloud gave me an idea of what some of the most mentioned topics were.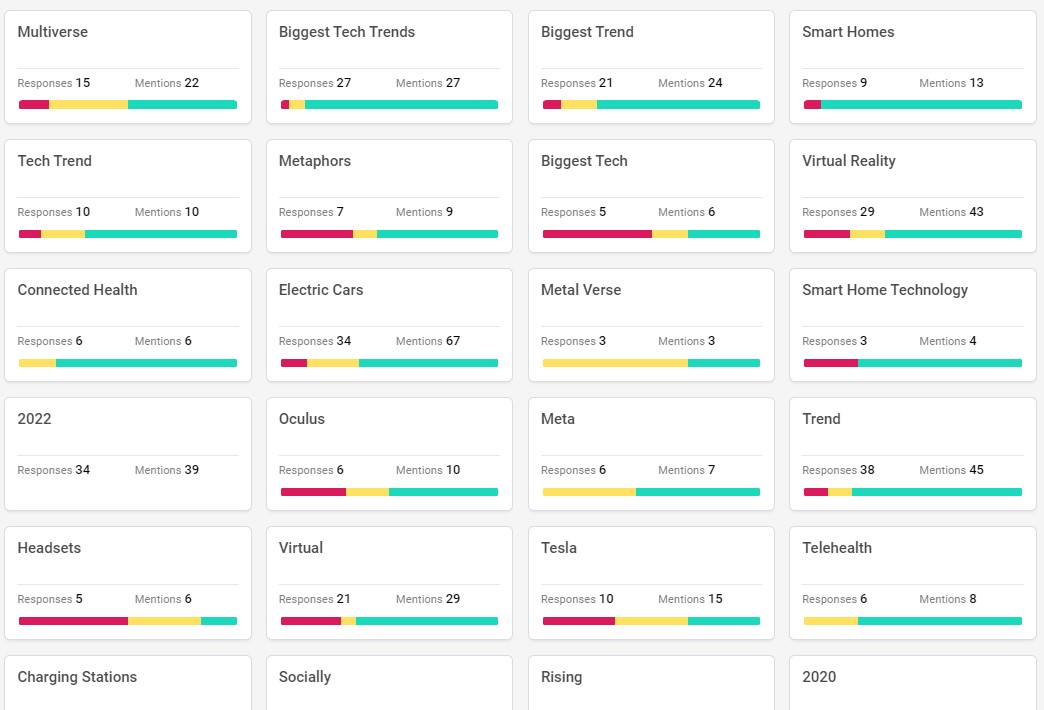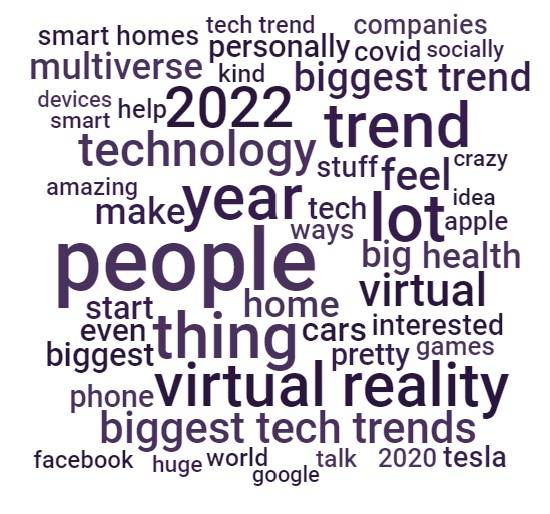 The analysis of tech trends this year
I like to review the theme explorer first to get an idea of what trends I'm seeing. The Word Cloud is my next step. Then I like to skim through the automatic transcripts and each response. Here's a sampling of responses.
Virtual reality
"I think that virtual reality is going to be the biggest trend," said Cassie, 36, of Opelika. "People are wearing the things over their eyes, seeing the virtual reality routine out there even getting hurt because they're playing these games and doing these virtual reality things that just seem so interesting."
Kandace, 36, of Elizabethtown, said she got a VR headset for Christmas.
"And we love it and you can do so much stuff with it," she said. "I feel the more games come out, the more things you can do with it. It's going to become more popular as the year goes on."
Electric cars
"They offer a electrical car now that I'm not going to say it's cheap, but it saves a bunch of money in fuel," said Brad, 47, of Millstadt. "And I do feel that fuel savings with cars such as the Tesla is a good way to go for the sole fact that it lessens the carbon emissions on our society. "

"I mean, who doesn't want a car that drives you?" asks Mercedes, 32, of San Tan Valley.
Donna, 54, of Montville, is also seeing the trend of electric cars but is wary of her own use.
"I personally am not interested in just electric cars by themselves," she said. "I feel like it's a little stressful with how much charge you have left and the distance that you can go and the ability to maybe not find a charging station. So I would prefer maybe a hybrid."
Erica, 43, of Dallas, likes that she's seeing more variety in electric cars. "The styles are looking a lot nicer."
The Metaverse
"I will say that biggest tech trend would be the Metaverse," said Quaddafi, 43, of Long Beach. "Everybody knows Facebook. Everybody loves social media. But I'm pretty sure the Metaverse is going to blow up is going to go crazy. Everybody goes crazy over Facebook and Metaverse."

Smart home
Virginia, 67 of Melbourne, said the smart home will include advances in the ability to open your garage door, turn lights on and off with just your voice, and more.
Thomas, 57, of Belchertown, said he predicts that you'll be able to control everything in your home from one app – no matter the brand.
Read next: Our best tips from experts: Building a market research team the right way

Connected health
When it comes to connected health, consumers discussed:
COVID apps that help people understand the current COVID exposure near them
Telehealth
"It only makes sense that they are going to make it more tech-savvy," said Arda, 27, of Tempe.
Precious, 28, of Tampa, said technology can make connections during health issues easier.
"Because many people were not able to see their family and friends up close and personal or in-person so we had to use technology for that," she said. "As I know at the hospital that I work at, due to COVID, there are a lot of restrictions. So people wanted to say goodbye to their family. We had some iPads in their rooms."

Molly, 32, of Fayetteville, said using technology in healthcare can also make things easier all around.
"I do several of my son's appointments online," she said. "I go up to the school. He doesn't have to miss class, but for a minute. They see him real quick and then he goes back to classes. So that's really helpful."
Where to next?
Tech trends cost money to consumers. That VR headset isn't coming cheap. Neither is that electric car and dialing up the connectivity of your home can also rack up the cost for those devices. Consumers in your study did mention the cost and even mentioned helping save money for a family member to be able to buy a VR headset.
More insights into pricing, financing, and go-to-market strategies could be helpful for brands that try to bring these newer tech trends to more consumers. That could be a potential follow-up study to this one.
Read next: How you can use video surveys for your next project!