Valentine's Day love letters from customers to their favorite brands

Happy Valentine's Day to Kate Spade, Apple, Fitbit and dozens of other brands that received love letters from customers this year!
Who doesn't want to feel good after the year we've all had. So we asked 100 consumers in the United States to write and read a love letter to their favorite brands through our video survey platform.
The task
We asked the following question:
For the next activity please write a love letter to your favorite brand for Valentine's Day.
In your letter please include:
When and how you met?
How you knew you love the brand?
How you introduced the brand to your friends and family?
Once finished, please read your letter out loud like you are reading it to the brand.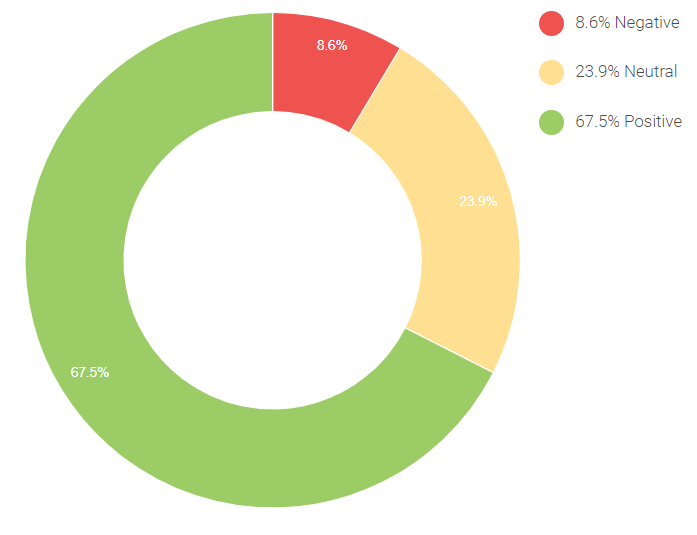 To say the least, the results were overwhelmingly positive – what do you expect with a love letter? The Voxpopme platform's sentiment analyzer pegged the positive and neutral sentiment at over 90 percent.
And even the negative turned into positives. Like this example from Darcie, 47, of Hattiesburg, Miss.
"Rothy's. We began in the spring of 2019 with a standoffish relationship. I couldn't decide if I wanted to commit to such a pricey experience," she said in her video feedback.
Even after a rocky start, she hopes to continue her relationship with the brand.
Keidra, 25, of Florence, N.J., wrote a poem to Dove Soap.
"Roses are Red, Violets are Blue. If Dove is White, Heaven must be too. The first day we met, I was just a young chick, today is Valentine's Day and we should be happy as heck."
Professing love to our favorite brands
The video survey analysis found the most common themes, not surprising, mentioned "loved."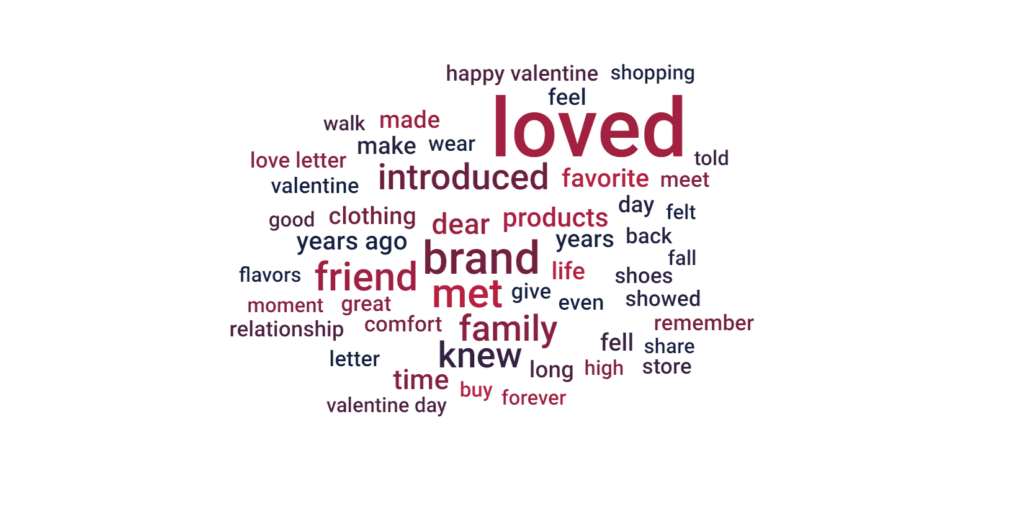 Unexpected relationships
Some relationships start by accident. Like the one between Kennedy, 27, of Salt Lake City, and Fitbit.
"Dear Fitbit, I met you about two years ago at Christmas time. You were the best unexpected gift I could have ever asked for. And I knew I loved you because I felt like I had a support system in my life that I had been missing for a long time to help me reach my fitness goals," she said in her Valentine's Day love letter. "My family introduced us, but honestly, you already knew most of my friends and family. I did introduce you to my fiancé and you have become a motivation for him as well to track and meet his fitness goals."
Looking good
Some relationships are born out of necessity. Like the one between Kevin, 34, of New York, and Brooks Brothers.
"I remember the first time that we met was actually back in 2014 when I was looking for work clothes and I was so disappointed with the work clothes that I had in the past," Kevin said on the Voxpopme platform.  "I'm so glad that you're able to put a bit of a smile on my face. When I got to wear the clothes I knew I loved because I was able to look back at the things that I was wearing. I felt the confidence (now)."
Some relationships needed a little encouragement from commercials.
"Dear American Eagle. I just wanted to write this letter to (share) my love. We met on a commercial and through family members," he said on the Voxpopme platform. "It wasn't until five years ago that I started buying your clothing. And I just want to say I absolutely love it. I knew I loved the brand when I saw the quality of the products and the price."

Compliments
LiAnn, 39, of Kent, Wash., appreciates Fashion Nova.
"Dear Fashion Nova apps. I'm glad we met. You have helped me out when I was down in the dumps and didn't think I looked cute. All I had to do was purchase something and, meet cute. I've gotten compliments on my jumpsuit, the green ones, of course."
Looking good is also about feeling good, as Heet, 25, of Parsippany mentioned.
"I knew I loved Nike after I got my first orange premium soft biodegradable hoodie, I knew I loved it because there was something about it that made me very emotionally attached."
And let's not forget about our hands…
"Dear ImPRESS Nails. I fell in love when I realized how cheap you were compared to regular manicures, but were just as durable and long-lasting," said Emily, 24, of Springfield.
Love at first sight
Whether you believe in love at first sight or not, it happens! Take this Valentine's Day love letter from Daphane, 26, of Orlando, to Versace.
"Dear Versace, when we met eight years ago at Millennial Mall on a shopping trip with my mom, I knew that I loved you," she said. "Everything about you is so delicate, so beautiful. I just knew that I had to have you. I knew I had to own you. Everyone agrees that you make me happy. We make each other happy. My mother and all my family love you."
Sometimes it's more love at first bite – as Heather, 18, of Bonnieville, shared.
"Dearest Velveeta, I knew as soon as I met you, I was in love from the very first bite of that wonderful cheesy chili dip that I made with you," she shared for this year's Valentine's Day. "And then I turned around and introduced you to my family because you're so yummy and delicious. I just can't get enough of you."
And for the times we need comfort…
"Dearest Crumble Cookies, we met a summer evening after the kids finally went to sleep. It was a rough day and you are what I needed," said Kenda, 32, of Nampa, Idaho. "And my husband knew it. You were delivered to my door and my life would never be the same. It was always so easy with you. It was love at first bite."
On this Valentine's Day, Carolyn,. 57, of Edgewood, N.M., is looking forward to a meal from Outback Steakhouse.
"I would say my favorite brand for Valentine's Day is going to be Outback because they're going to make my Valentine's Day meal, which I hope is steak and lobster," she said. And someone in my family will pick it up and I'll be able to eat it at home. The closest thing to going to a restaurant on Valentine's Day during COVID. I met Outback Steakhouse quite a few years ago when my children were little. I just really loved the food and the service."
Convenience matters in relationships
Dominica, 41, of El Paso, Texas, reminded us of the importance of convenience in her love letter to Amazon.
"We met over ten years ago. Someone introduced me and I have been buying from you more and more every year. I love that. I get free shipping. There is so much variety in items that I can't get anywhere else. And they can always be shipped to me no matter where I'm at in the world, I travel a lot so I can picked them up anywhere. Very customer-focused."
And of course, relationships evolve, as Tom, 43, of Oklahoma City, Okla., attested in his love letter to Netflix.
"I remember when we first met. Our first correspondence was the sending and receiving of DVDs in the mail," he remembered. "If there was an issue, you apologized and resolved it, even prompt and courteous. And I love that. I remember introducing you to family, to great reception."
Sometimes relationships move forward when there's a sale.
"Dear Hu Cholocate … when you're on sale I like to buy from you. And I know I'll always be there. As long as you are," said Jennifer 44, of New York.  Please never leave. Always make yourself available like you always have. Sincerely, Jennifer, the love of your life … your shelf life. Since 2018."
I'll drink you forever
Stephanie, 18, of Wellington, Florida, wants to grow old with Coca-Cola.
"My Coke, you are the love of my life. You lift me up with your many flavors and crisp, bubbly sensation. You have been in my life since I was a kid and I want to grow old together with you," she said in her video. "When I'm tired you rejuvenate me by quenching my thirst. When I'm hot you cool me down. My entire family loves you and you fit in well with us. Never change your flavors and always be my love. On this Valentine's Day, I want to toast you as my love of my life and always be with you."
Tuning the rest of the world out
Being with our Valentine can shut the rest of the world out, as Melissa, 37, of Dyer, Indiana, professed in her love to Bose.
"Dear Bose, thank you for consistently providing quality sound for me to enjoy watching TV or listening to music. Since my father introduced us in 1997, my earbuds have forever been changed for the better. Your Valentine, Melissa."
Susan, 47, of Myrtle Beach, had a similar noise-cancelling experience.
"From the moment I walked into your store and heard your beautiful sound, I knew I was in love."
Brands that should feel the love for Valentine's Day
In all, 100 Valentine's Day letters were collected through the Voxpopme platform in under 24 hours for a variety of brands that are listed here:
Abercrombie & Fitch
Adidas
Amazon
American Eagle
American Fishing Tackle
Apple
Armani
ASICS
Barefoot Wines
Bath and Body Works
Ben & Jerry's
Bose
Brooks Brothers
Carhardt
Coca Cola
Crumbl Cookies
Doritos
Dove Chocolate
Dove Soap
Dr. Teal's
Eucerin
Fashion Nova
Fitbit
Garden of Life
Glossier
Godiva
Gymshark
Hallmark
Hershey
Hippeas
Hu Chocolate
imPRESS Nails
Johnson & Johnson
Jordan
Juul
Kat Von D.
Kate Spade
Lady Gang
Louis Vuitton
Lululemon
McDonald's
Michael Kors
Netflix
Nike
Nissan
Oakley
Outback
OWay
Peloton
Pepsi
Playstation
Ponds
Pure Synergy
Queen Helen
Reebok
ReelTree
Rothy's
Secret
See's Candies
Seventh Generation
Sketchers
Starbucks
Stonemaier Games
Tillamook
Velveeta
Versace
Victoria's Secret
Whole30
You can watch all love letters here: