[Consumer study] What are consumer's favorite mustard brands?
In this study, we wanted to find out what the favorite mustard brands of U.S. consumers are. But don't just tell us, show us what brand is actually in your fridge.

The methodology
In a few hours, we completed the study of 100 respondents through Voxpopme's Influence market research online community (MROC) of on-demand consumers.
The platform neatly packaged the results in one dashboard.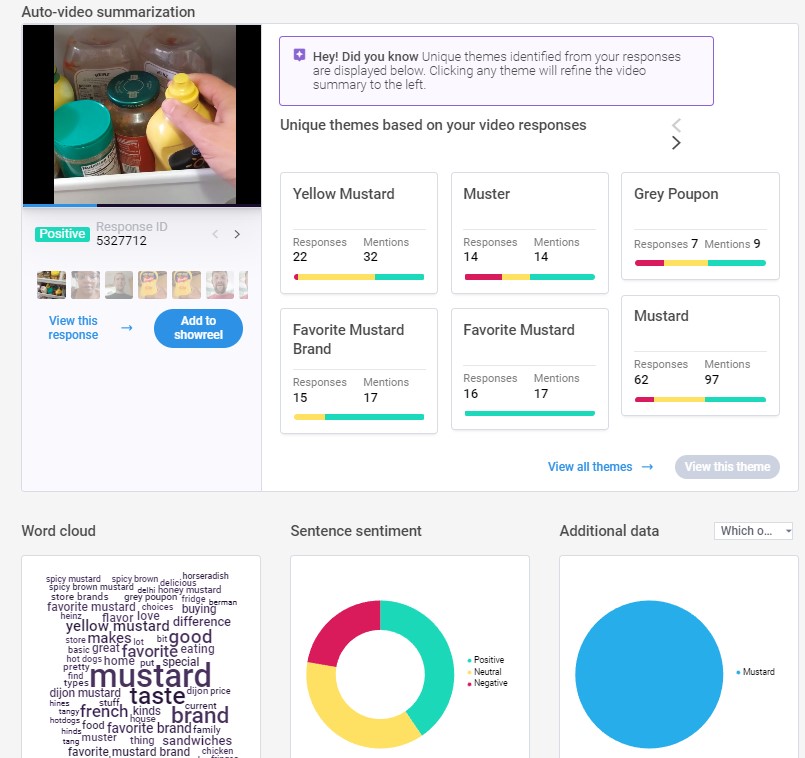 We asked consumers that like to eat mustard with their meals:
What is your favorite mustard brand?
Show us on camera which mustard brands you have at home.
Why is it your favorite brand, and what makes it so special compared to other brands?
Read next: Not sure what to ask? Check out Voxpopme's tried and tested open-ended questions for video research.
The results
To sum it all up, we create a quick highlight reel of reactions:
The sentiment
During the study, respondents recorded a quick asynchronous video message – selfie-style, directly from their phones.
The automatic sentiment analysis showed that 52 percent of all statements were positive, 10 percent negative, and 38 percent neutral.
The sentiment analysis pulls from what respondents said in their video responses.
The automatic theme explorer and Word Cloud gave me an idea of some of the most mentioned topics.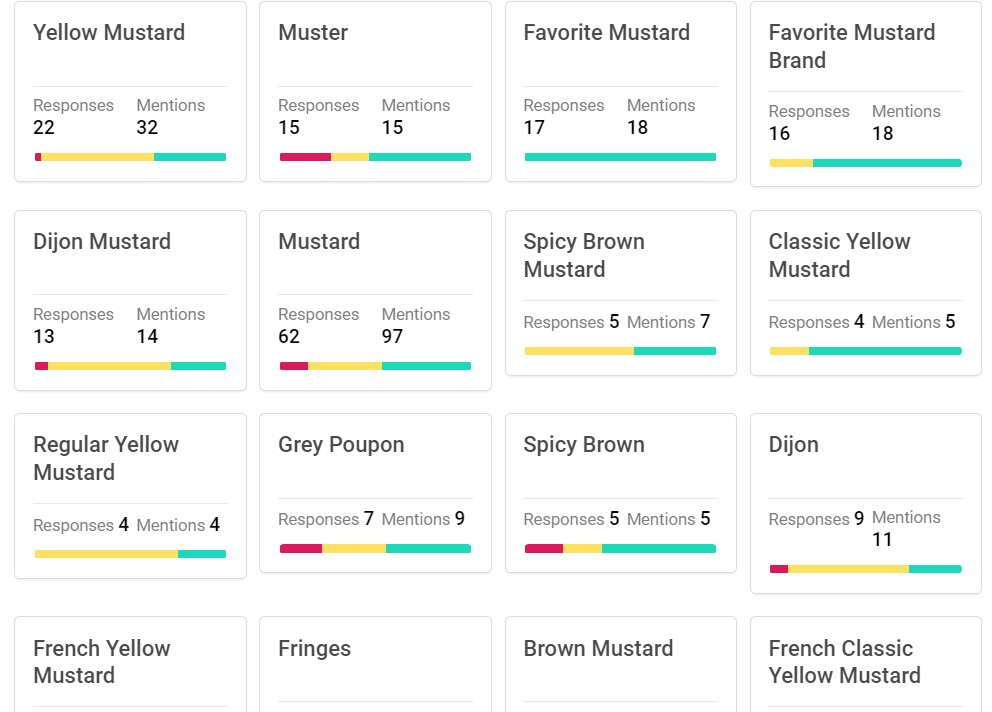 At times, I also use the Theme Builder and my knowledge of the subject to build and group themes for topics that I consider related.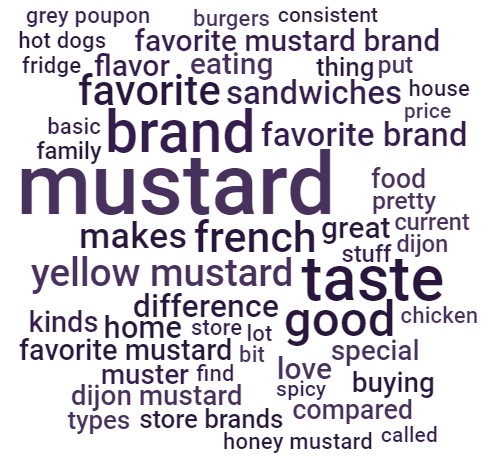 The analysis
Next, I read through the transcripts of the responses. This is an easy way to read some more in-depth, skim ahead when applicable, and go back to previous answers in seconds.
Examples of what people said
"I don't really have a favorite mustard brand. I just get the normal store-bought mustard. Nothing special. I just like yellow mustard. I feel like every yellow mustard is the same. Sometimes I get a spicy brown, but most of the time I get the store brand because I feel like they all taste the same," said Josh, 33, of Port Clinton.
"I choose to use French's as that is our favorite brand – it has a really tangy flavor. It is consistent, and it's just got the perfect taste to add it to whatever we add our mustard to," said Michelle, 43, of Glenolden.
"It makes all food tastes even better. That's why French's is my mustard. And I love the color – that classic yellow," said Rennell, 59, of Los Angeles.
"So I have three different kinds. I have horseradish mustard. I use that for different types of sandwiches depending on the meat. Regular French's, as well as a store brand yellow mustard. So for the regular yellow mustard, I use it for what is most common, like hot dogs, and burgers. Basically, the classics that call for the yellow mustard. Horseradish is more for artisan things, sandwiches, wraps, and whatnot. I would have to say my favorite is probably French's just because it's universal," said Matt, 32, of Huntington Beach.
"So this is actually the mustard section in the fridge. Regular yellow, honey mustard; there is sweet and hot mustard; there is dijon mustard, horseradish mustard. It depends on what we're eating," said Louanne, 54, of Belchertown.
Mustard brands mentioned
Mustard brands that consumers had in their fridges during the study include in alphabetical order:
Best Choice yellow mustard
Bookbinders dijon mustard
Burman's yellow mustard
Chestnut Hill yellow mustard
daiya hon'y mustard
Dijon mustard
Deli Market yellow mustard
Food Club dijon mustard
French's honey mustard and yellow mustard
Great Value yellow mustard and honey mustard
Grey Poupon dijon mustard
Gulden's Spicy Brown Mustard
Heinz yellow
Iowa Country dill mustard
Ken's Steakhouse honey mustard
Kroger dijon mustard, spicy brown mustard, and yellow mustard
Maggie Mostaza (which respondent's mom brings home from Ecuador)
Maille dijon originals
Market Pantry yellow mustard
Old Hawaii Recipies
Plochman's Mild
Price Rite dijon mustard
Primal Kitchen organic dijon mustard
Publix spicy brown
Stoneground horseradish mustard
Trader Joe's Dill Pickle and dijon mustard
Wegman's yellow mustard
Whole Foods dijon mustard
Read next: [Consumer study] Is inflation already affecting holiday shopping?
---
"So my favorite mustard brand by far is classic yellow. It's just classic; it's delicious. I put it on everything. Ham and cheese sandwiches, hotdogs. I mean, I've just been using it for so long. That is just like a staple in my house, and it's special for barbecues. I don't know. It's just everybody always wants the classic yellow," said Stefanie, 40, of Secaucus.
---
Where to next?
We also heard from several consumers who said they didn't have a favorite and just grab whatever mustard is available. That's a potential opportunity for a follow-up:
Why do you think there's no difference in the different products?
What are you looking for in mustard?
How could a specific brand rise above the rest?
Those might be questions for your next video surveys study.
Read next: How you can use video surveys for your next project!