[Consumer study] What are consumers' favorite loyalty programs?
Loyalty programs, once a staple of the airline industry, are now used by many industries and companies. So we wanted to find out: Which are the favorite loyalty programs of consumers and why? We asked 100 consumers in the United States and 100 in the United Kingdom.

The methodology
In a few hours, we completed the study of 200 respondents through Voxpopme's Influence platform of on-demand consumers.
We combined quantitative and qualitative questions in the study, and the platform neatly packaged the results in one dashboard.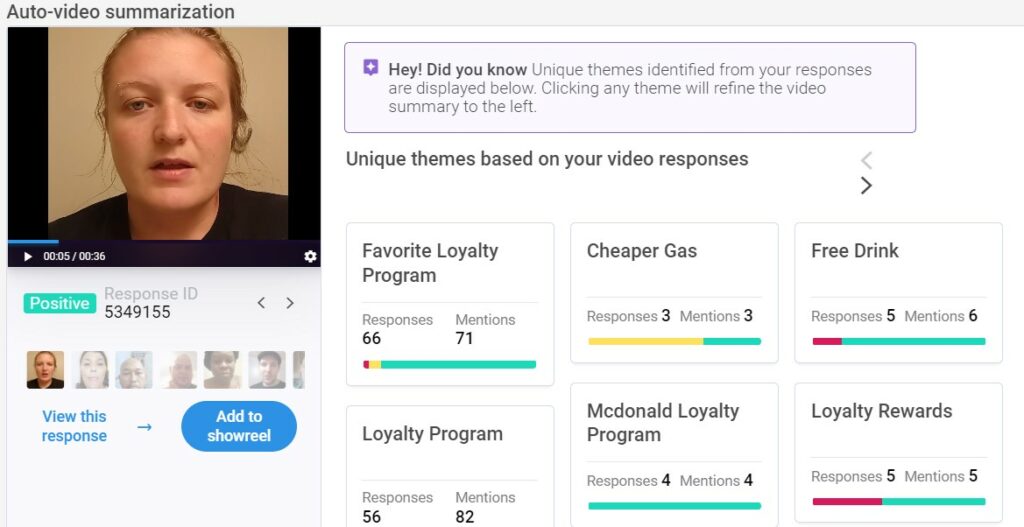 As a screener question, we asked:
Are you part of a loyalty program?
"Yes" answers advanced.
On the quantitative side, we asked:
Has inflation influenced you to join a loyalty program?
On the qualitative side, we asked:
What is your favorite loyalty program?
Why is this your favorite loyalty program, and how does it compare to other loyalty programs?
Read next: Not sure what to ask? Check out Voxpopme's tried and tested open-ended questions for video research.
The results
To sum it all up, we created a quick highlight reel of reactions for the U.S. consumer responses:
And we created a separate highlight reel for the responses from consumers in the United Kingdom:
The quant results
Almost 60 percent of U.S. respondents said inflation influenced them to join a loyalty program.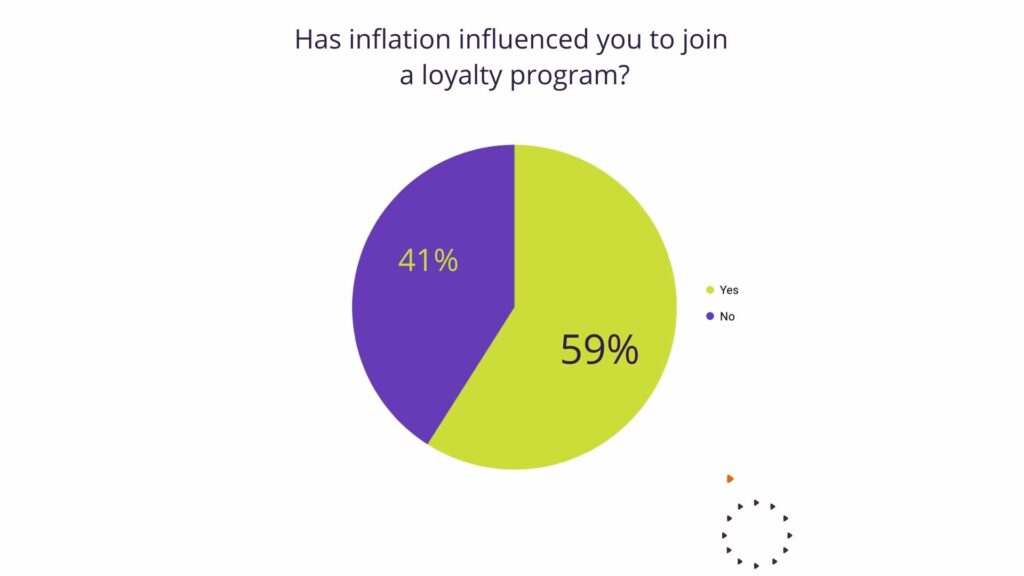 In the United Kingdom, the answers were more 50-50.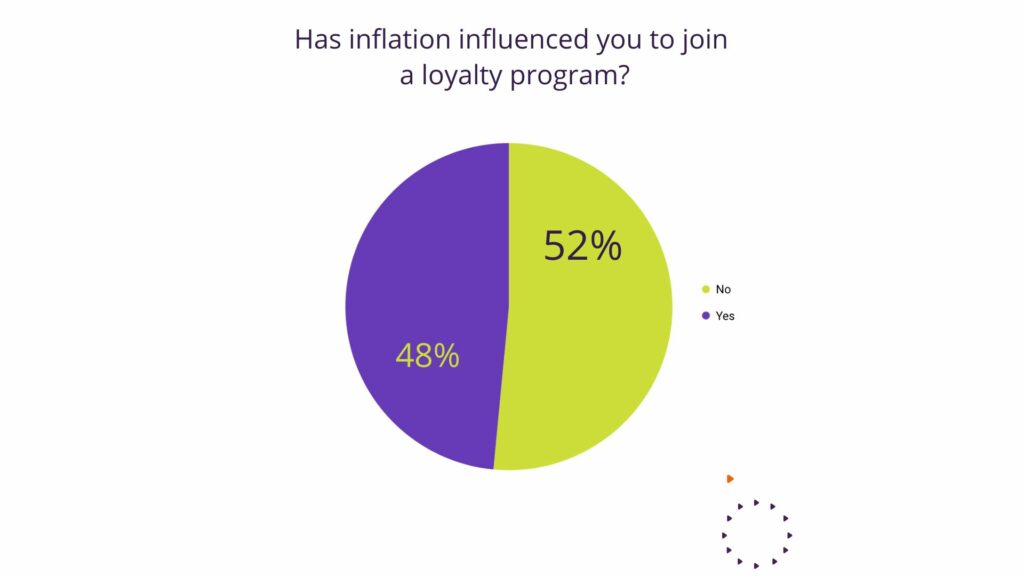 The qual results
During the study, respondents recorded a quick asynchronous video message for the qual questions – selfie-style, directly from their phones.
The automatic sentiment analysis showed that 57 percent of all statements in the United States were positive, 11 percent negative, and 32 percent neutral.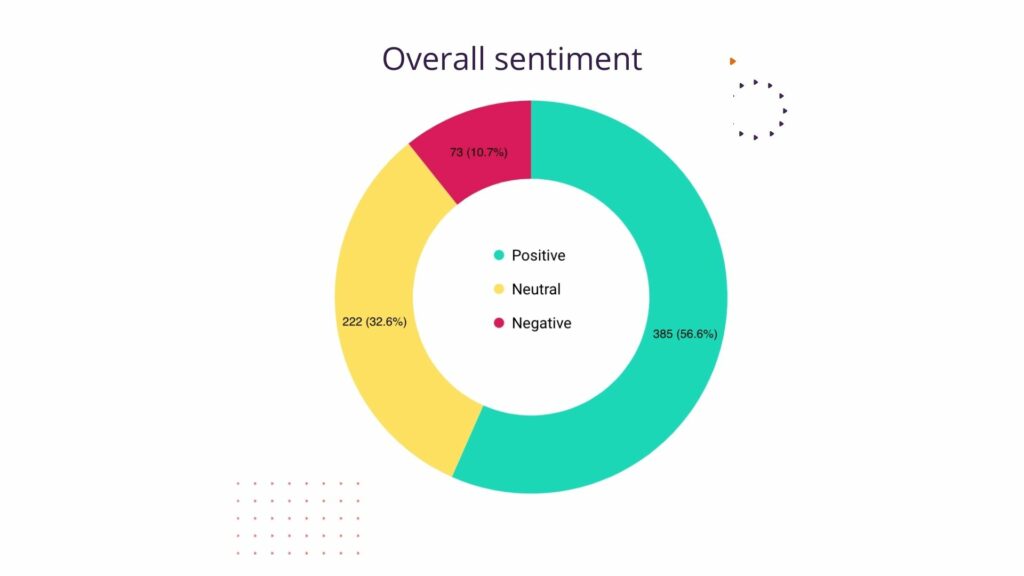 In the UK, sentiment looked very similar to U.S. respondents' sentiment.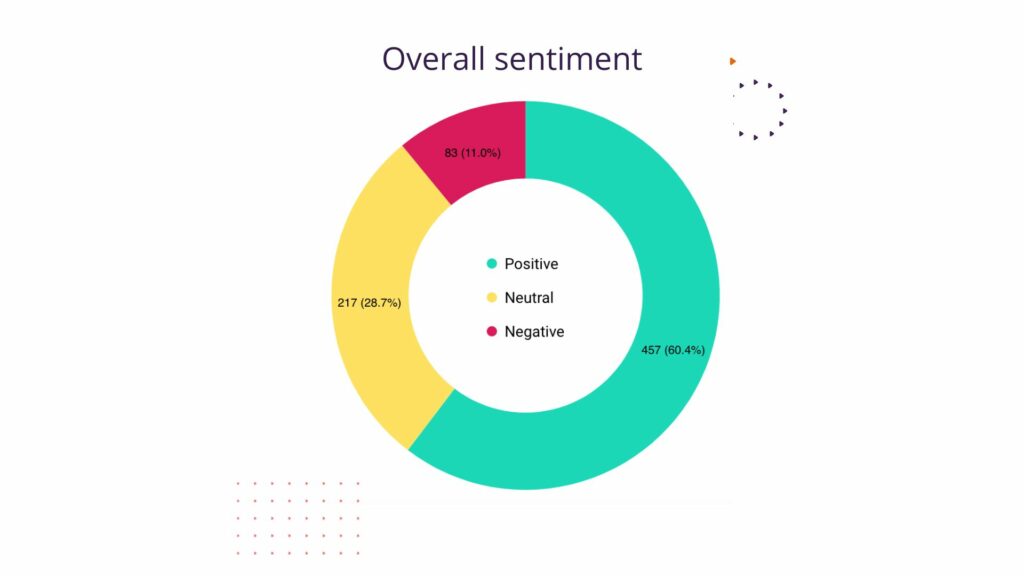 Unlike the quant questions – which are self-reported answers – this sentiment analysis pulls from what respondents said in their video responses.
The automatic theme explorer and Word Cloud gave me an idea of some of the most mentioned topics.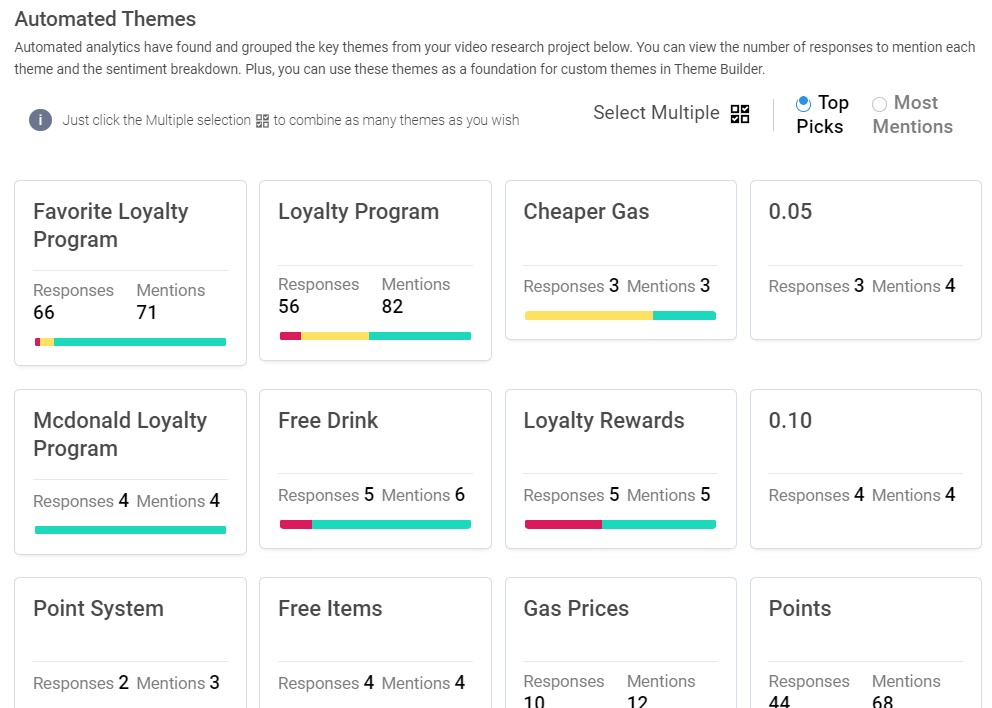 At times, I also use the Theme Builder and my knowledge of the subject to build and group themes for topics that I consider related.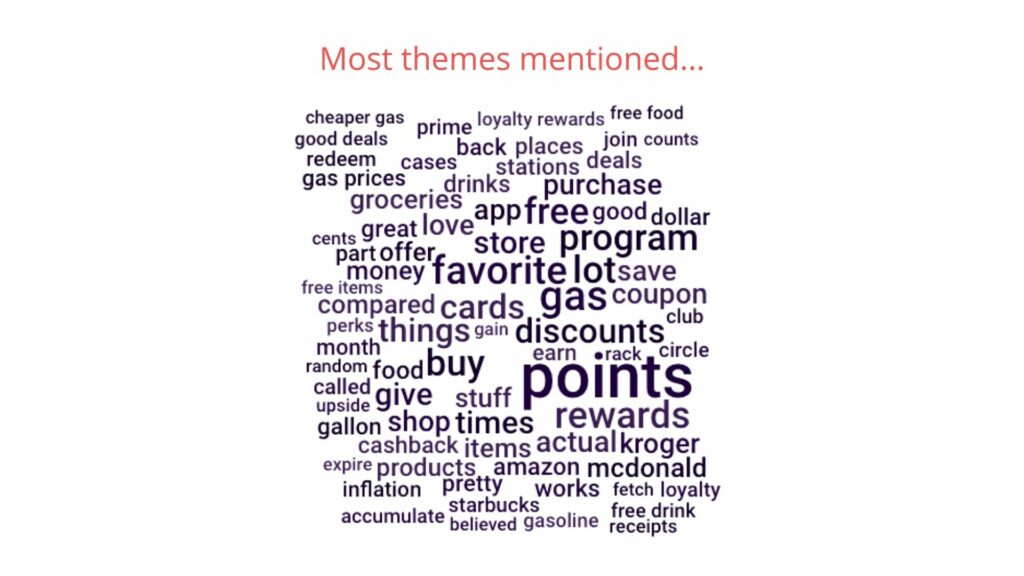 The analysis
Next, I read through the transcripts of the responses. This is an easy way to read some more in-depth, skim ahead when applicable, and go back to previous answers in seconds.
Examples of people's favorite loyalty programs (United States)
The favorite loyalty programs for U.S. consumers in our study are:
Autozone
Bath and Body Works
Beauty Insider
BJ's Rewards
Burger King Royal Perks
Capital One
Carnival
Casey's Rewards
Circle K Easy Rewards
Costco Executive Rewards
Cumberland
CVS
Dunkin Donuts
Fetch Rewards
Food Lion
Finish Line
Flying J
Harris Teeter
Huggies
Kohl's cash
Kroger's
Mapco rewards
McDonald's
Murphy's
Nike
Old Navy
Outback
PetSmart Treats
JC's
Johnnie's Rewards
Rite Aid Rewards
Safeway
Scooter's
7-Eleven
Shell
Speedway
Smith's
Starbucks
Stripes Convenience Stores
Target Circle
Tesco
Turkey Hill
Ulta Beauty
United Dairy Farmers
Upside
Walgreen's
Winn-Dixie
Winston Cigarettes
Other consumers mentioned features of loyalty problems or types of industries:
Hotel programs
Loyalty programs that offer gift cards
Gas station loyalty programs
Cashback rewards credit cards
Supermarkets
Vape shops

Examples of what consumers said
"One of my favorite loyalty programs right now is McDonald's. And the reason being I was homeless for a couple of months, and McDonald's probably saved my life. The app was easy to download and didn't take much to order because they have a great selection. And what I like about it is McDonald's is constantly giving back," said Larry, 49, of Galveston.
"My favorite loyalty program would be Target Circle. This is my favorite loyalty program because of how many deals there are and the amount of cashback you receive, and you get a birthday gift every year," said Cassia, 23, of San Antonio.
"Bath and Body Works is my favorite because I use it almost daily. And it's very easy and very quick to rack up points. Based on how many points I get, I can get a free item," said Precious, 29, of Tampa.
Samantha, 43, of Harrisonburg, said she likes loyalty programs that come with a card that she can swipe at the store.
"My favorite loyalty program is Scooter's loyalty program. I just love that if you buy five coffees, your sixth one is free. So I feel like it's a really easy and attainable loyalty program. I feel like you accrue faster because five isn't that many compared to other places that are like 'buy ten, get one free,'" said Amy, 33, of Liberty.
Respondent's favorite loyalty programs in the United Kingdom
Here are the brands mentioned by consumers in the U.K.
The Body Shop
Boots Advantage Card
British Airways
British Airways credit card
Caffe Nero
Co-op
Costa Club
Edge by the Sea coffee
Expedia
Hotels.com
Pizza Express
Marks and Spencer
McDonald's
My Lidl
My Morrisons
Nectar at Sainsbury's
Starbucks
Superdrug
Tesco Club
Waterstones
Whole Foods (365 program)
---
Several people also mentioned Amazon Prime, which I would consider more of a membership program. Prime doesn't give consumers rewards for shopping. It charges them a fee for faster shipping, Amazon Prime Video, and other services.
My definition of a loyalty program is an initiative that allows consumers to report their purchases by tying their phone number, account number or by having a rewards card. Some loyalty programs have loyalty member pricing on items, and others give discounts or free items based on the amount of loyalty points consumers earned. On the other hand, some membership programs, like the Co-op in the U.K. do offer discounts or cashback. Typically, loyality programs are free to join and offer perks for purchases.
I was surprised by the few mentions from the travel industry in both parts of the world. I always associated loyalty programs with travel, after all. Part of that might be because way more businesses now have loyalty programs than was the case years ago.
Another reason might be less travel overall.
"I've had a few loyalty programs over the years, something to do with travel, but I don't travel as much anymore, so I wouldn't involve that one. The main ones have been things like credit cards and Tesco club card," said Mark, 45, of Cumbernauld.
Where to next?
Consumers explained why they like one loyalty program better than another, and often it came down to the right discounts at the right intervals. But what's next? Especially as more and more companies start a loyalty program, there's an opportunity to find out why consumers pick specific programs over others and how they use that loyalty program membership in their decision-making.
Read next: How you can use video surveys for your next project!