Consumer study: Home workouts vs. gym – what do consumers prefer now?
Home workouts vs. gym is a real question for consumers. And let's not forget outdoors – that's another option that can be in the mix. It was also a question we didn't get to ask as much during the COVID-19 pandemic when gyms were limiting the number of fitness enthusiasts or were closed completely. But what's the current status of where people work out? Are they considering home workouts vs. gym. Have they chosen a winner?
We found out in this consumer study.

The methodology
The entire study of around 100 respondents was conducted through Voxpopme's Influence market research online community (MROC) of on-demand consumers.
We combined quantitative and qualitative questions in the study and the results were neatly packaged for me in one dashboard.
On the quantitative side, we asked:
This question was also used as a screener with only yes answers moving forward to the next question.
How often do you workout?
Where do you prefer to workout?
On the qualitative side, we asked:
Please tell us, why do you prefer to workout at home, gym or outside?
What are the most important aspects when choosing where to workout?
Would you buy home exercise equipment – like a Peloton, NordicTrack treadmill or something similar? Why or why not?
Read next: Not sure what to ask? Check out Voxpopme's tried and tested open-ended questions for video research.
The results
Here's a quick highlight reel of responses, which we created directly in the platform:
The quant results
The majority of our respondents – 58 percent – said they exercise daily, 39 percent said weekly and the rest said "other."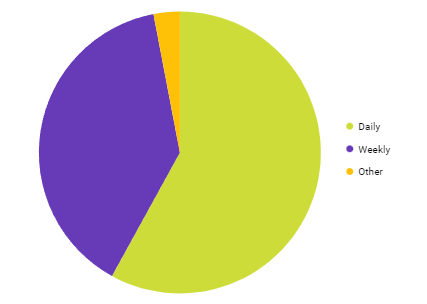 The majority of respondents – again 58 percent – prefer to work out at home, with 23 percent at the gym and 19 percent outside.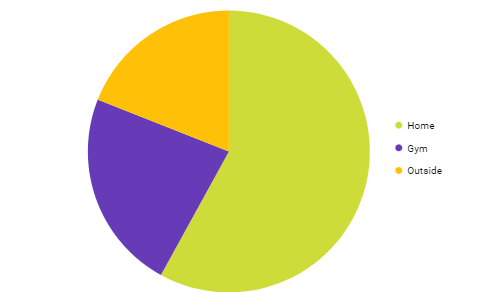 The qual results
For the qual questions, respondents recorded a quick video message – selfie style, directly from their phones. Some were even sitting in their cars while participating in the study.
In all, the automatic sentiment analysis showed that 44 percent of all statements were on the positive side, with 24 percent being negative and 32 percent were neutral.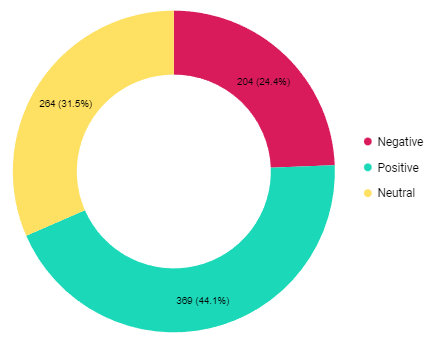 Unlike the quant questions, this sentiment analysis is pulled from what respondents actually said in their video responses.
The automatic theme explorer and Word Cloud gave me an idea what some of the most mentioned topics were.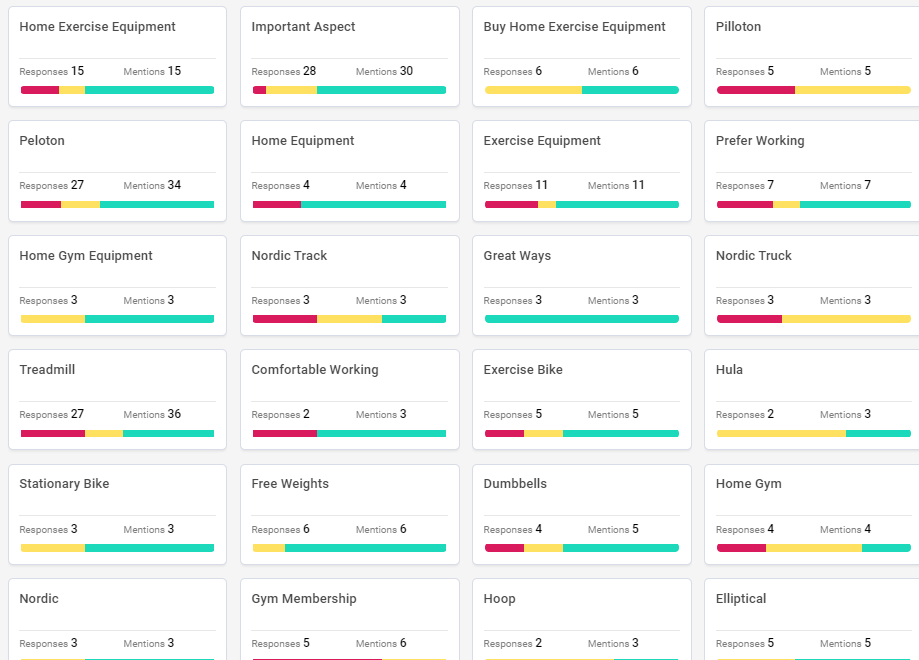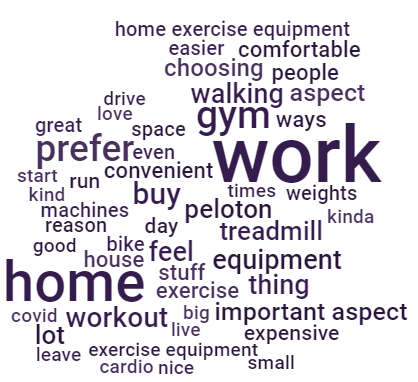 The analysis
I like to review the theme explorer first to get an idea what trends I'm seeing. The Word Cloud is my next step. Then I like to skim through the automatic transcripts and each response. Let's see what respondents said.
The stay-at-home crowd
"I like to workout at home," said Shelly, 33, of Bronson. "I have my own equipment. And I just feel like especially nowadays with COVID, it's just a lot safer, especially since I'm working from home. I don't have to worry about having to leave."

Christopher, 44, of Waterbury, said he works out at home on his treadmill, and would be interested in buying additional exercise equipment.
"Like a bike or maybe a rower," he said. "I prefer working out at home based on convenience really."
Lauren, 28, of Cedar Falls, said she works out at home because she's too self-conscious to go the gym – a sentiment repeated many times in the study. There's just more privacy at home.
Going to the gym
Eduardo, 54, of West Palm Beach, said he prefers going to the gym because he can work out with his friends. In addition, to workout buddies, gyms usually have more equipment choices for a workout, said Eric, 37, of Greenville.
"I do have quite a bit of stuff and I can get some home workouts in, but to really get in there and work out hard, I go to the gym," he said.
Efrain, 32, of North Bergen, echoed the sentiment and likes to rotate different machines and weight exercises into his routine – something not possible at home.
Let's head outside
Some respondents mentioned they like to exercise outdoors.
Italia, 30, of Caribou, said she likes to go outside and "go on walks and flip tires. No reason to expose myself to the public."
Exercising outdoors can also mean to integrate the exercise into your day.
"I bike to work every day and I feel that 25 to 30 minute ride gives me a great opportunity to get almost an hour of exercise in every single day," said Gregory, 42, of Fort Collins.
It depends
But, Debra, 36, of Staten Island, reminds us that all three exercise locations have advantages:
Home is convenient when you are already at home or for an early morning workout
Outdoors can be nice because of the fresh air.
Gyms can be great when you are already out and about and the variety of equipment.
It can also depend on the mood the person is in.
"It depends what kind of mood I'm in," said Katerina, 30, of Chandler. "Normally I like working out at a gym unless I'm doing like a Zoom class."
---
Where to next?
Reviewing the consumer study responses really breaks down the respondents into these sub-groups for me:
Gym goers because they like the variety in equipment
Go to gym because it's close
Exercise at home for convenience

with equipment
without equipment

Work out outside

through walking or other activity as part of planned exercise
built-in exercise during the day – like biking to work, lunch walk or meeting
Those are certainly different consumer audiences for different brands. As an example, the consumer group that exercises at home could be a great group to understand further for brands that sell in-home exercise equipment.
Why aren't they using equipment while working out at home?
How do they choose what to do?
Are they feeling good about their workouts?
And so forth…
Similar questions could be asked of people exercising at home with equipment.
Certainly, it's interesting to see where consumers currently stand when it comes to home vs. gym workouts and there's lots of room to dive into their habits and understand them even further.
Read next: How you can use video surveys for your next project!