Consumer study: Meat vs. plant-based diets – what do consumers think?
Plant-based diets are grabbing more of the headlines these days and there have been reports of people in the United Kingdom eating less meat. So we wanted to find out what consumers' thoughts are when it comes to meat vs. plant-based diets. We launched a study of 100 consumers in the United Kingdom to find out.

The methodology
The study of 100 respondents took less than three hours and was conducted through Voxpopme's Influence platform of on-demand consumers.
We combined quantitative and qualitative questions in the study and the results were neatly packaged for me in one dashboard.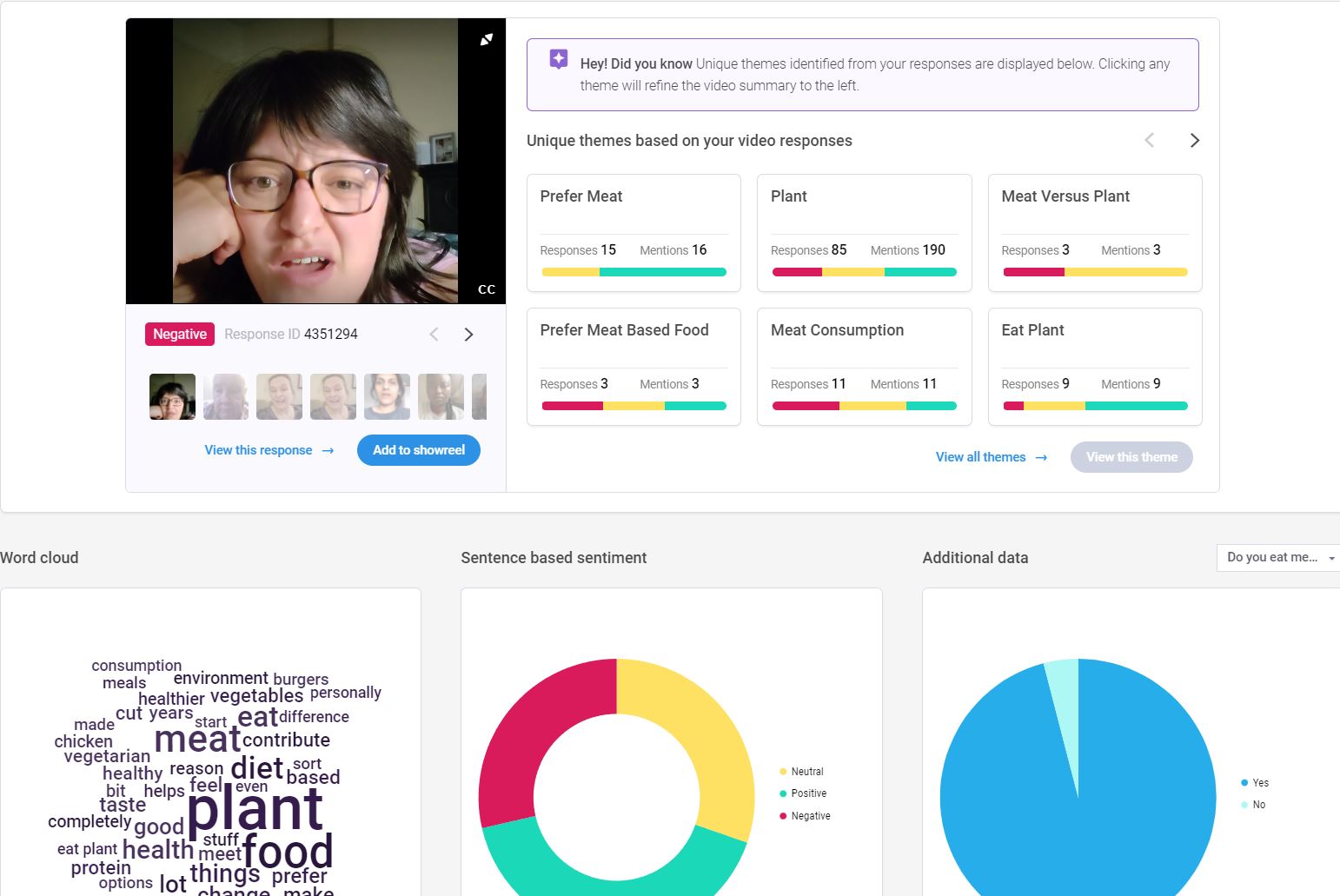 On the quantitative side, we asked:
Do you eat meat?
Have you cut your meat consumption in the last 5 years?
On the qualitative side, we asked:
Do you prefer meat or plant-based food? Why?
Would you change to a plant-based diet – why or why not?
Do you think plant-based food can contribute to your health?
Read next: Not sure what to ask in your study? Check out Voxpopme's tried and tested open-ended questions for video research.
The results
Here's a quick highlight reel of the qual responses, which we created directly in the platform:
The quant results
Over 95 percent of respondents in the UK said they eat meat.
Sixty-two percent of respondents said they cut meat consumption in the past five years.
The qual results
For the qual questions, respondents recorded a quick video message – selfie style, directly from their phones.
In all, the automatic sentiment analysis showed that 41 percent of all statements were on the positive side, with 31 percent being negative and 28 percent were neutral.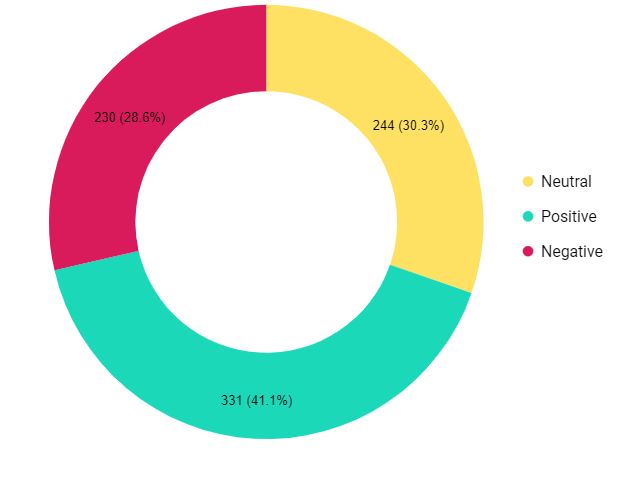 Unlike the quant questions, this sentiment analysis is pulled from what respondents actually said in their video responses.
The automatic theme explorer and Word Cloud gave me an idea what some of the most mentioned topics were.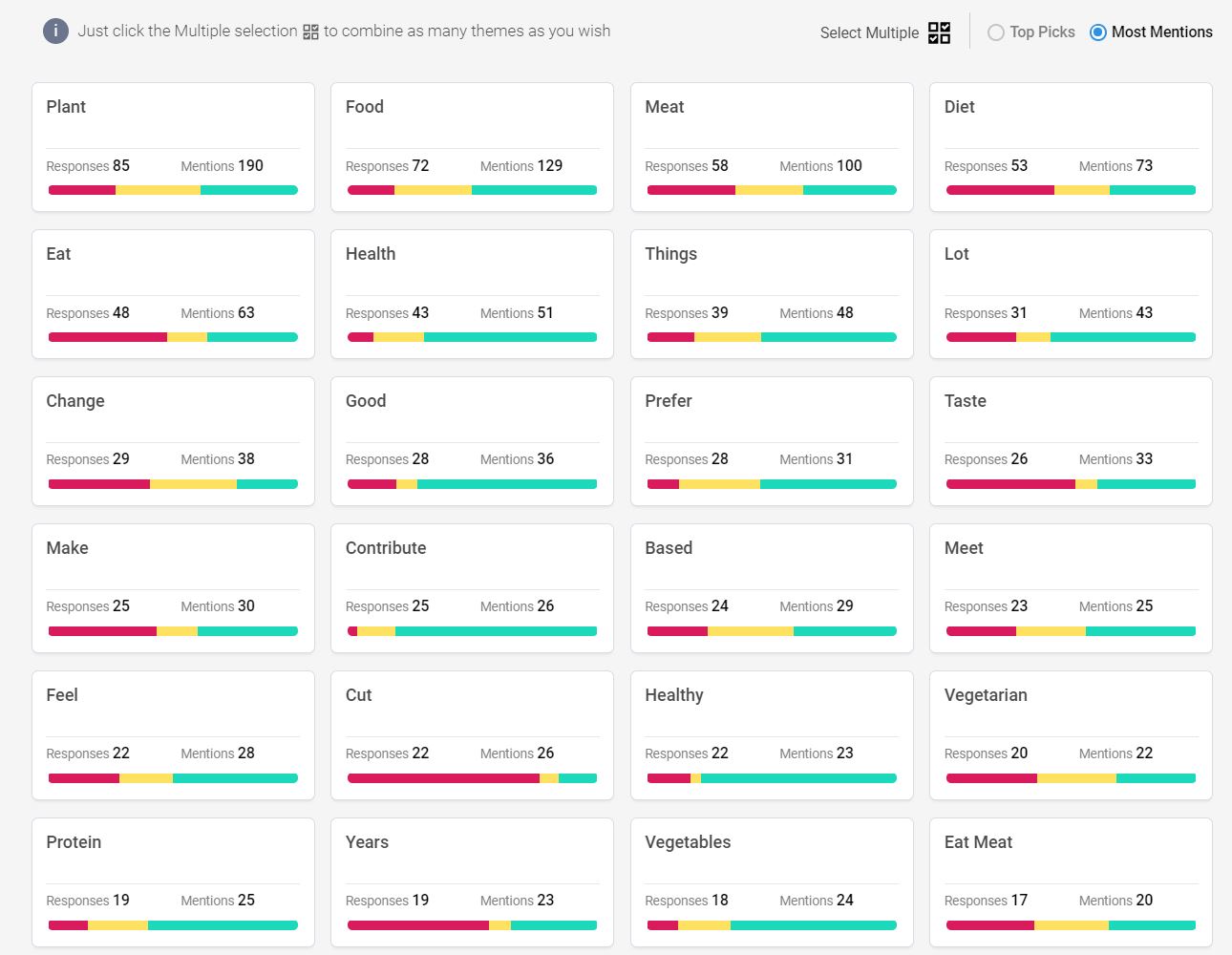 Respondents discussed the impact on the environment, quality and time to market.
The analysis
I like to review the theme explorer first to get an idea what trends there are. The Word Cloud is my next step. Then I like to skim through the automatic transcripts and each response.

Plant-based diets as the preference
"I prefer the plant-based diet food and have recently cut my meat consumption over the last few years," said Krishnakumar, 38, of London. "And it is very healthy and also leads to my healthy lifestyle and also it helps the environment and also protects our Mother Nature."
Ricky, 36, of London, said he prefers the plant-based diet.
"I think whatever we need we can get from the plants – all the nutrients," he said.
"Well, I think plant-based food is probably better for me and also better for the environment," said Callum, 57, of London. "As time goes by, I would like to see more variety. There seems to be very few options in terms of plant-based protein products. And they tend to be more expensive than actual meat."
Does plant-based mean quality?
Vanessa, 40, of Newscastle upon Tyne, said that she does eat meat and isn't so sure that plant-based always equals healthier.
"I really hate plant-based as a description of food and there's a lot of junk food, just really heavily processed food, but happens to be vegan or vegetarian," she said. "And it's described as plant-based when it's plant-based, but it's also rubbish."
Daniel, 37, of London, has worked in the hospitality industry for over a decade and said has seen the move from most everyone eating meat to more people eating plant-based food. He jokes that it's hard for him as a German to not eat meat but he's also making the move to be healthier and live longer.
Why choose?
Some respondents said they eat both and aren't planning on changing that.
Robert, 48, of Wolverhampton, said he eats both because of the varying nutrients each give him.
"I feel very positive about actually having plant-based alternatives other than meat," said Isabel, 34, of Earlswood. "However, I'm not intending to become a complete vegetarian. I just have meats – in smaller amounts and less often."
But some prefer their meat over plant-based foods
Some respondents aren't interested in giving up their meaty meals and are questioning the impact of plant-based foods.
"To be honest, the burgers do not taste as good as the real burgers, said Melanie, 58, of Londonderry.
"I am actually a meat eater because I I'm used to it and I don't believe that I will stop," said Turna, 41, of Milton Keynes, adding that she does not believe a plant-based diet is healthier.
---
Read next: How you can use video surveys for your next project!
Whether you eat a meat or plant-based diet or a mix, the opinions on the topic are wide ranging. It's certainly good to understand what consumers' perceptions and habits are when it comes to these two different types of diets.