When Big Brands Take Social Stances: An In-Depth Analysis of Nike's Colin Kaepernick Ad
Nike's recent "Dream Crazy" ad with Colin Kaepernick went viral and sparked emotions, leading some to applaud Nike's campaign and others to burn their shoes with the swoosh. Zappi & Voxpopme analyzed the benefits and drawbacks of the socially divisive campaign.
Editor's Note: The new Nike campaign has been a hot topic since it was released last week, and not just in the world of marketing and insights. It was topic on my personal Facebook feed, with many research pros working to understand the strategy behind a campaign that at first seemed to be having a negative impact on the brand and stock valuation (both of which seemed to have bounced back after a few days) , so I asked my friends at Zappi and Voxpopme to field a study ourselves to understand the dynamics of the campaign among a general population. We launched the study at 5 pm ET on Thursday 9/6, and the survey and reports were complete by 9 am ET on 9/7.
The results are illuminating and help validate why a marketing powerhouse like Nike may have chosen a bit of the gamble with this campaign; the overall positives outweigh the marginal negatives, among some segments. 
This campaign will likely continue to drive discussion on multiple levels, but this study puts to rest one argument; Nike did indeed know what they were doing and found a winner because these data confirm it.
Thanks to Zappi and Voxpopme for pitching in so quickly to help us explore this topic!
---
Since Nike released an ad featuring Colin Kaepernick last week, their stock has dropped and risen again, Nike shoes were burnt, a city mayor banned Nike products, even Donald Trump weighed in on Twitter.  And sales increased 31%. The ad was featured in the New York Times, People, and CNN among others.
Nike aired the ad on Thursday, September 6th, 2018 during the third quarter of the NFL season opener featuring former quarterback Colin Kaepernick. Kaepernick has been a polarizing figure since becoming the first NFL player to stage protests over racial injustice during pregame performances of the national anthem.
Though the most recent socially divisive ad to face American audiences, Nike's is not the first. From Target's move away from gender-based signs to 84 Lumber's 2017 Super Bowl Ad, socially divisive promotion has become a way of increasing virality, generating brand awareness, and promoting political beliefs.
Naturally, this has several obvious benefits and drawbacks. While it increases ties to those that support the message, it risks long-term alienation from detractors, as well as political boycotts and action from activists against the cause.
This raises the question; is creating this kind of ad a smart move for brands?
Zappi in partnership with Voxpopme tested the Colin Kaepernick ad on its automated consumer insights platform. The video ad was put through a second-by-second analysis to determine the effect the ad will have on the brand as well as how it stacks up compared to other socially driven ads. The ad was tested on over 500 people in the US and results were analyzed as a whole, by political party, by ethnicity, income, and athletic apparel purchasers. Of respondents, 39% identified as Democrats and 34% identified as Republicans.
The overall response to the message of the ad was overwhelmingly positive, even from the respondents who didn't agree with the Colin Kaepernick partnership.  Some key themes that emerged from the video responses:
Inspirational
Believing
Dreams
Click here to see the people behind the data who found the ad inspirational
Do those supporting the ad outweigh those disliking the ad?
In short, yes. You can see in the image below. This ad performed above norms for all categories other than behavior change.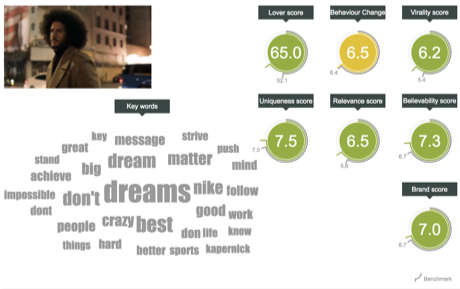 Motivational and Inspirational are big wins overall
Unethical, sad, exploiting: all these attract less than 10% association, and even positive words like patriotic and ethical are low on the list. More people have left the politics behind and played back human reactions – motivational, inspirational, memorable, happy, relatable, and so on.
This ad over-indexes on thoughtful and love. Also happy, excited, peaceful.
Beyond that, there are no notable swings. Uncool, disgust, hate: these aren't far from the norm.
Does this ad work for Nike's target audience?
It depends. Of all segments, this ad performed the best with Democrats above other political affiliations. Democrats like it more than Republicans: 80% Lovers (lovers are those who rated the ad between 8 and 10 on a love/hate scale) vs. 59%. Here's a comparison of the reactions between the main parties.
Democrats are more inspired and think it's more memorable or happy
Democrats find it relatable and think it's for people like them
Republicans think it's much more exploitative and unethical
Republicans see it as more political and aggravating
Filter this to black/African Americans and the number one positive driver is 'for people like me'. Looking at behavior change, number one is 'relatable' and two is again 'for people like me. Of the sample, 67% is white and 17% percent is black.  Black Americans love this ad more than anyone at (86%), Very high volumes of black Americans find this ad relatable (52%) and made for people like theme (39%).
Lovers (if you have bought Nike in the past year) is at 77% and 63% if not.
We asked specifically about the Kaepernick partnership and how that affects consumers perception of the Nike brand.
42.7% said it improves their perception of the brand
36% said their perception stays the same
21.3% said the ad and partnership with Colin Kaepernick detracts from their perception of Nike
Click here to see the people behind the data who stated the ad detracts from their perception of the Nike brand
How will the ad ultimately affect purchase intent?
It seems the only way Nike is going is up. Respondents noted the ad will encourage them to purchase Nike products more, given how inspired they were by the message.
Even of those that said it detracted from their perception of the Nike brand, only about ⅓ said they would not purchase Nike as a result.  The others, while disagreeing with the partnership or thinking it will hurt the brand, specifically say they will continue to buy despite their feelings. 
Click here to see the people behind the data who will continue to purchase, despite their negative feelings about the ad
Summary of Results
The Nike ad performs significantly above norms in all other key metrics (brand feeling, brand linkage, claims, overall appeal, relevance, unique and difference, viral likelihood) – this is a successful ad for the masses
More than 40% of people give this ad a 10/10 on the love/hate scale
Haters (selected 0-4 on the love/hate scale) are slightly lower than average, but this isn't significant. Almost half of all Haters give this a score of 0, generating some extreme kick back in a small slice of the audience.
This would have been a powerful ad with or without Kaepernick's inclusion, as you can see by the second-by-second reaction.  When looking at the video feedback, most respondents didn't even mention the controversy of Nike's partnership with Kaepernick; the focus was primarily on the "dream big" inspirational message of the ad.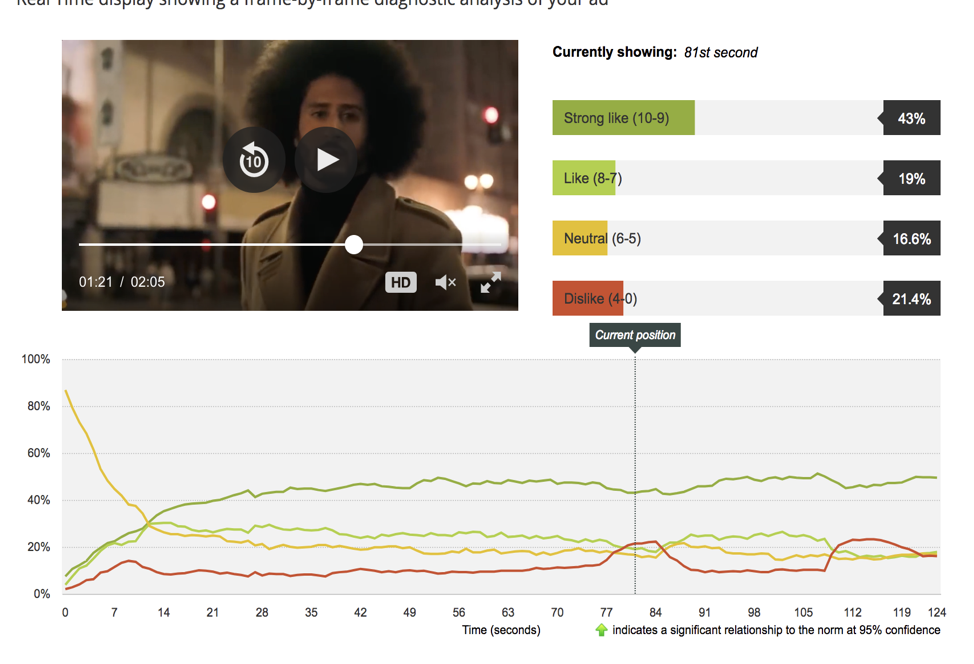 The second Kaepernick comes on screen, a division in those watching the ad occurs. One could argue this is a sign that the ad should not be published as it's alienating a portion of its buyer base (in this case Republicans). However, it looks like the divisive reaction is precisely what actually made the ad stand out and become viral.